A Complete Guide to Khan el-Khalili Bazaar: Everything You Need to Know
Jun 5
If you plan to visit Cairo, Egypt, stopping at the Khan el-Khalili Bazaar is necessary. This
bustling market
boasts centuries of history, culture, and tradition, making it one of the most iconic destinations in the city. Khan el-Khalili has something for everyone, from its vast array of shops, vendors, and souvenirs to its breathtaking architecture and enchanting atmosphere. Whether you're a seasoned traveller or a first-time visitor, this complete guide will provide you with everything you need to know to make the most of your experience in this vibrant market. So, let's dive in!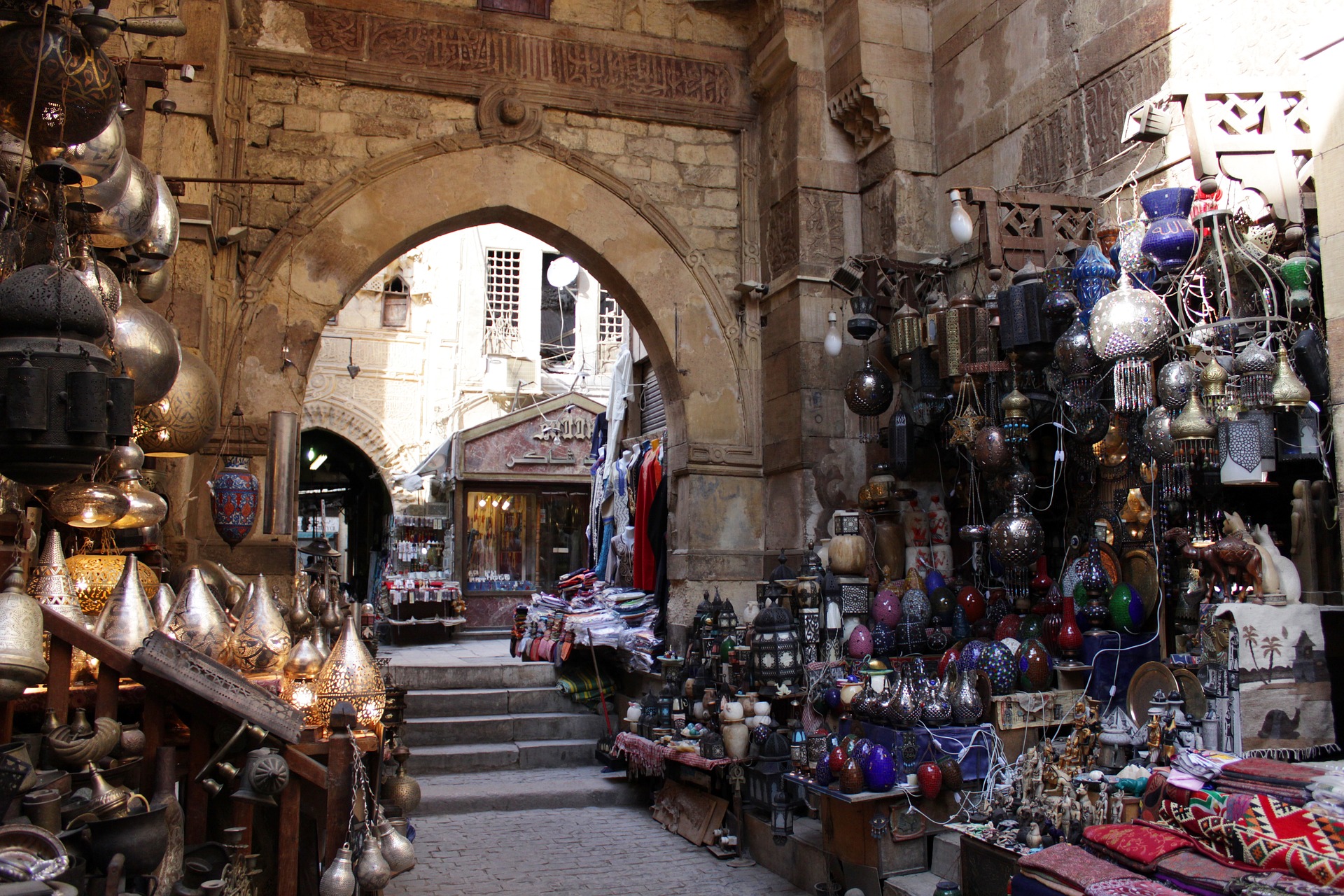 History of Khan El Khalili Bazaar
Are you planning a trip to Cairo and wondering where to go for an authentic shopping experience? Look no further than Khan el-Khalili Bazaar, a historic marketplace that has been around for centuries. The bazaar was originally built in the 14th century by Jaharkas el-Khalili, the Master of Stables for Sultan Barquq. It was initially a caravanserai, a building that houses travelling merchants and their goods. Over time, the bazaar expanded and became a central hub for local and foreign trade.
If you're interested in history, visiting Khan el-Khalili will not disappoint. The bazaar is in the heart of Historic Cairo, known for its stunning medieval Islamic architecture. A UN study found that nearby Moez Street has the world's highest concentration of these types of architectural treasures. As you wander through the bazaar's labyrinth of alleys and courtyards, watch for original architectural elements like vaulted ceilings, archways, and vintage mosaics.
Of course, the main attraction at Khan el-Khalili is the shopping. Whether you're looking for unique souvenirs to take home or want to browse the offerings, the bazaar has something for everyone. You'll find everything from high-quality gold and silver jewellery to inexpensive trinkets and souvenirs. If you're interested in Egyptian handcrafts, check out some of the artisan workshops that have used the same crafting techniques for hundreds of years. And if you're a fan of Egyptian cuisine, don't miss the spice merchants, where you can stock up on essential ingredients to recreate your favourite dishes back home.
As with any marketplace, haggling is expected at Khan el-Khalili. Don't be shy about negotiating prices with shop owners and vendors, but remember to keep things friendly and lighthearted. If you're not confident in your bargaining skills, decide how much you will spend and stick with it. And if you're feeling overwhelmed by the chaos and noise of the bazaar, take a break and enjoy one of the weekly whirling dervish shows or other cultural performances that take place there.
Finally, getting to Khan el-Khalili is fairly easy. You can take a taxi from anywhere in Cairo, although be prepared for heavy traffic in the surrounding area. Another option is to take the metro and get off at the Ataba stop but be warned that it's a 20-minute walk from there and not the most pleasant for women. The easiest way to enter the bazaar is through Al-Hussein Square, where the Al-Hussein Mosque is located. Simply tell your taxi driver to drop you off there or plug it into your Uber destination, and you should be able to find your way around quickly.
[1]
[2]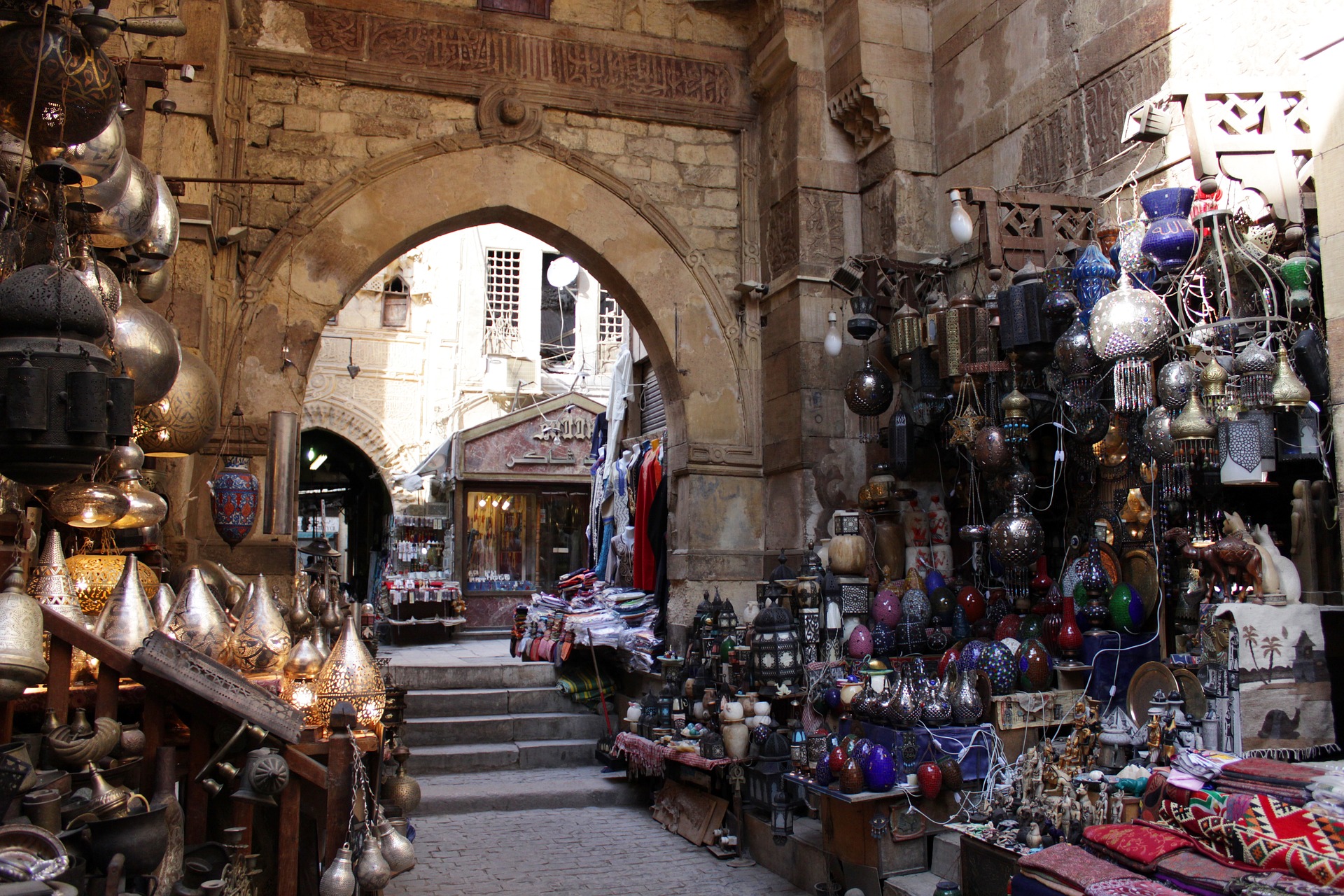 Location and How to Get There
Are you planning a trip to Cairo and wondering what to do? Look no further than Khan el-Khalili Bazaar, one of the most historic places in the world. Located in the heart of Old Cairo, it is a must-visit for anyone travelling to Egypt. You can take a car or taxi to get there but be prepared for heavy traffic in the area. If you prefer public transportation, you can take the metro and get off at the Ataba stop but expect a 20-minute walk from there. However, the easiest and most direct entrance is at Al-Hussein Square, where you can orient yourself quickly upon arrival.
Khan el-Khalili Bazaar was built in 1382 by Emir Djaharks el-Khalili, who was the Master of the Stables of Sultan Barquq. It was originally a large caravansary that housed merchants and their goods. Over time, other sultans added their khans, and the area became a centre for trade, both local and foreign, in the late 15th century. Today, you can see the unique architecture and feel the vibrant energy of the historic market.
Once you step inside Khan el-Khalili Bazaar, be prepared to enter a labyrinth of tiny alleys filled to the brim with over 900 shops and vendors. You can find everything from high-quality gold and silver jewellery to intricate Egyptian handcrafts. If you are in the market for souvenirs, this is the place to go, as there is an abundance of stands selling all kinds of trinkets. Don't forget to bargain with shop owners and roaming trinket hawkers to get the best deals.
If you need a break from shopping, you can catch weekly whirling dervish shows and other cultural performances. For a truly unique experience, visit the bazaar at night when the century-old buildings are lit up, and the atmosphere is even more chaotic. Don't miss the famous A-era gate, built by Sultan al Ghuri, and the gate of Bab al-Badistan, which dates back to the Fatimid era.
Visiting Khan el-Khalili Bazaar should be at the top of your list when exploring Cairo. It is a bustling and chaotic market with a rich history and vibrant culture that can transport you back in time. Remember to embrace the experience, bargain with vendors, and soak up the atmosphere to make the most of your visit to this iconic market. 
[3]
[4]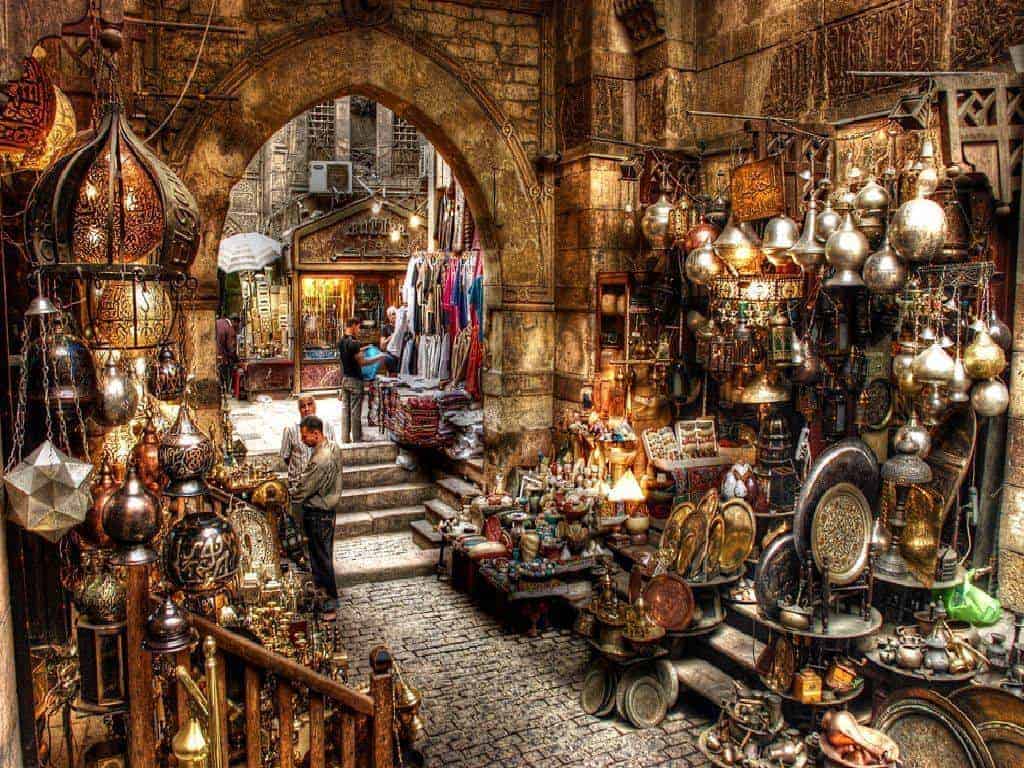 What to Expect: The Atmosphere and Shopping
When you visit Khan el-Khalili Bazaar, expect to immerse yourself in a lively and chaotic atmosphere. This historic market, located in the Islamic district of Cairo, is one of the world's oldest and most vibrant bazaars. As you wander through the labyrinthine alleyways, you will encounter a dizzying array of sights and smells - spice and perfume markets, antique and fabric shops, carpet vendors, and countless stands selling souvenirs. The market is especially alive at night, so it's worth visiting after dark to experience its full energy.
As you navigate the market, be prepared to use your bargaining skills. Haggling is a way of life in Khan el-Khalili Bazaar, and vendors expect you to negotiate prices. This is a great opportunity to pick up unique souvenirs, from traditional jewellery and clothing to locally-made crafts and artwork. Keep an eye out for the high-quality items made by local artisans - they make excellent mementoes of your trip and support the local economy.
In addition to shopping, Khan el-Khalili Bazaar is a fascinating historical site. The market was originally built as a mausoleum for the Fatimid royal family in the 10th century and later became a major trade centre. The current market was built in the 14th century and expanded under Ottoman rule in the 16th century. The market's architecture reflects its history as a caravansary (an inn for travelling merchants), with buildings surrounding a central courtyard. Today, the market's colourful and ornate buildings are a feast for the eyes.
One of the highlights of the market is the Al-Azhar Mosque. This stunning mosque, built in 970 CE, is one of the oldest in Egypt and is located at the heart of Khan el-Khalili Bazaar. Its iconic minarets tower over the market and are visible from miles away. The mosque is still used today and symbolises Cairo's rich history and religious traditions.
Finally, remember to take your time exploring Khan el-Khalili Bazaar. It's easy to get lost in the maze of alleyways and lose track of time. Plenty of cafes and restaurants are dotted throughout the market for when you need a break from shopping. Try traditional Egyptian coffee or tea and marvel at the vibrant street scenes around you. Whether you're searching for souvenirs or want to soak up some of Cairo's unique atmosphere, Khan el-Khalili Bazaar is a must-visit destination that will stay long after you leave.
[5]
[6]
Popular Souvenirs to Buy
Are you planning to visit the Khan el-Khalili Bazaar in Cairo? Don't forget to bring back some souvenirs! Here are some popular items to buy:
1. Lantern Lamps -
These beautiful lamps are in varying designs and sizes, perfect for lighting up any space.
2. Spices -
Take home a piece of Egypt by purchasing aromatic spices in the bazaar. You'll find everything from cinnamon to saffron.
3. Carpets and Rugs -
The bazaar is home to many carpet vendors, offering a wide selection of handwoven carpets and rugs in different colours and sizes.
4. Jewelry -
From traditional Egyptian to modern designs, the bazaar has a range of jewellery options to choose from. Don't forget to try your bargaining skills for the best price.
5. Perfume -
 Egyptian perfumes are famous for their unique and luxurious scents. You can find a variety of fragrances at the perfume shops in the bazaar.
6. Papyrus Art -
Papyrus is a plant used to make paper in ancient Egypt. You can find beautiful papyrus art in the bazaar, depicting Egyptian history and culture scenes.
7. Souvenirs - 
From magnets to keychains, the bazaar offers a multitude of souvenirs with Egyptian motifs. These small items make great gifts for friends and family back home.
Remember, bargaining is common in the bazaar, so don't be afraid to negotiate prices. Happy shopping! 
[7]
[8]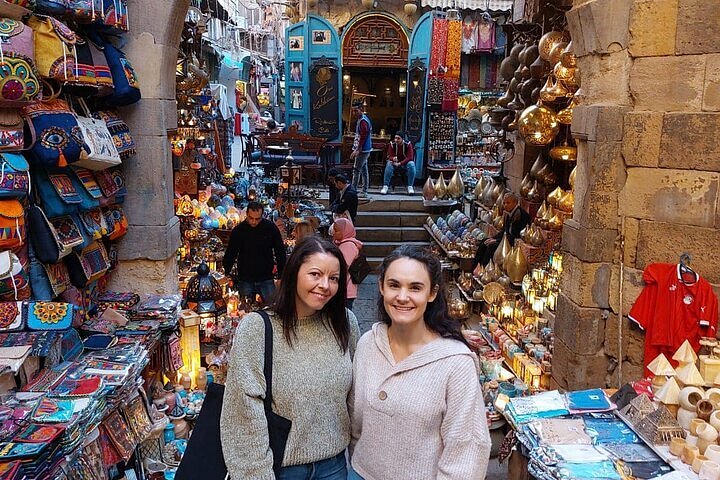 Bargaining Tips for Shopping
Bargaining is an essential skill when visiting Khan el-Khalili Bazaar in Cairo. If you want to get the best deals and prices, here are some tips for successful bargaining:
1. Start by asking for a lower price than the one quoted. Generally, the initial offer is higher than what the vendor is willing to accept.
2. Take your time, and don't show too much interest in the item. When vendors see that you are eager to buy, they may not give you a fair price.
3. Don't be afraid to walk away if you disagree with the price. Vendors will often call you back and offer a better deal.
4. Try to buy more than one item from the same vendor. This gives the vendor an incentive to lower the price for you.
5. Look for discounted items or sales. Vendors often have special deals or promotions to attract customers.
6. Don't be disrespectful or too aggressive. Bargaining is a cultural practice in Cairo, but it should always be done politely and respectfully.
7. Researching the item you want to buy beforehand is always a good idea. This way, you'll better understand its value and what a fair price is.
8. Be prepared to compromise. If you can't get the item at the price you wanted, try to negotiate a reasonable price for you and the vendor.
9. Keep in mind that bargaining is part of the experience. Have fun with it, and enjoy finding the best deals.
By following these tips, you'll be able to confidently navigate the Khan el-Khalili Bazaar and get the best deals on your purchases. 
[9]
[10]