The Ultimate Guide to Shopping in Khan el-Khalili Bazaar
Jun 30
Do you enjoy vibrant lights, unique handicrafts, and historic marketplaces? If so, Khan el-Khalili Bazaar in Cairo, Egypt, is a must-visit destination for you. This hidden gem is home to countless artisans selling everything from lantern lamps to spices, carpets, and jewellery. But don't worry about getting lost in the crowded marketplace - with this ultimate guide, you'll know exactly what to see, where to go, and what to wear. Ready to embark on a shopping adventure like no other? Read on for the ultimate guide to shopping in Khan el-Khalili Bazaar.
Description of Khan el-Khalili Bazaar
Located in the heart of Cairo, Egypt, Khan el-Khalili Bazaar is a historic market that boasts century-old buildings and a charming atmosphere. The bazaar is a maze of winding alleyways filled with various shops and stalls selling everything from spices and perfumes to antiques and fabrics. In addition to shopping, it is a perfect occasion to test your bargaining skills.
Notable features in the market include iconic gates and buildings such as the Al-Ghuri Complex and the famous era gate built by Sultan al Ghuri. Khan el-Khalili's historic background dates back to 1382 when Emir Djaharks el-Khalili, Master of the Stables of Sultan Barquq, demolished a mausoleum in the district and replaced it with a large caravansary. This later became known as Khan al-Khalili.
Today, the market remains a popular destination for both locals and tourists. It is widely acclaimed as one of the most historic places in the world, making it an essential Cairo experience. As evening falls, the market comes alive with vibrant, colourful lights, creating a magical atmosphere that transports visitors back in time.
A visit to the Khan el-Khalili Bazaar is a must-do in Cairo, promising a memorable and captivating experience for all who explore its enchanting streets. [1][2]
Importance of visiting Khan el-Khalili Bazaar
Visiting Khan el-Khalili Bazaar is a must-do experience for anyone travelling to Egypt. This historic marketplace has been a centre of commerce and culture for over 500 years, making it a truly special destination with a unique atmosphere you won't find anywhere else. 
You can find everything from gorgeous lantern lamps to exquisite handmade carpets, beautifully crafted jewellery, and even traditional Egyptian spices. Shopping at the bazaar is an unforgettable experience, and it's the perfect place to buy souvenirs for friends and family back home. 
But beyond the shopping, Khan el-Khalili Bazaar offers a glimpse into Egypt's vibrant history and culture. It's a place where you can see ancient architecture and take in the city's distinctive sights, sounds, and smells. 
There's also the opportunity to interact with locals and learn about their way of life, making for an even more enriching travel experience. Visiting Khan el-Khalili Bazaar is an important part of any trip to Egypt, and it's not to be missed. 
So, add it to your travel itinerary, and get ready to immerse yourself in this historic marketplace's vibrant energy and culture. [3][4]
How to get to Khan el-Khalili Bazaar
Getting to Khan el-Khalili Bazaar is quite easy, as it is located in the heart of Cairo and easily accessible by public transport. 
Once you arrive in Cairo, you can hire a local taxi or book an Uber to get to Khan el-Khalili Bazaar. However, I would advise booking an Uber, as local taxis can be quite pricey, often charging more than a flight ticket. 
When you reach the bazaar, you will be dropped off at the Azhar Mosque, located next to the bazaar. It is important to note that the bazaar is quite crowded, with narrow lanes and alleys, so taking a taxi or Uber is the easiest and most convenient way to get there. 
In addition to public transport, you can also walk to the bazaar if you stay nearby. However, it is crucial to wear comfortable shoes and be mindful of your surroundings if you choose to walk. 
Overall, getting to Khan el-Khalili Bazaar is easy, whether by public transport or on foot, and the experience is well worth the effort. [5][6]
Historical background of Khan el-Khalili Bazaar
Khan el-Khalili Bazaar has a rich history that dates back to the 14th century when Amir Karkas el-Khalili had the commercial complex built near the site of Za'afran's tomb. This tomb was a traditional burial place of the Fatimid rulers in Egypt. This vibrant market is part of a reconstruction project undertaken by Sultan Barquq (1382-1399) to help the city recover from the devastation caused by the Black Death during the 13th and 14th centuries. The market has been significantly modernized over the years, but some parts still show the original architectural style of the Mamluk era, characterized by arched portals and vaulted ceilings.

Through the centuries, Khan el-Khalili bazaar has retained its glory and heritage by flourishing as a social hub, trade centre, and artistic hotspot. The market has witnessed the reign of various periods and played a significant role in shaping the cultural evolution of the Egyptian civilization. It has been a popular destination among travellers and locals alike.
Today, the bazaar remains one of Cairo's most popular attractions, brimming with life, colour, and energy. This vibrant market offers an exciting shopping experience where you can find traditional Egyptian items, unique handicrafts, herbs, perfumes, souvenirs, carpets, textiles, and more. You can also explore the winding alleys, ancient buildings, museums, mosques, and traditional cafes that are part of the bazaar's charm. A visit to Khan el-Khalili Bazaar is like stepping into a time capsule that takes you back to the medieval era of enchanting Egyptian art and culture [7][8]
Notable buildings and gates in the bazaar
Khan el-Khalili Bazaar is known for its rich history and iconic architecture. As visitors weave through the maze of alleyways, they will come across several notable buildings and gates. Each landmark offers a glimpse into the past, making the bazaar a unique and exciting place to visit.
One of the most popular landmarks is the Bab al-Ghuri Gate. Built during the Mamluk period in the 16th century, this magnificent structure boasts intricate carvings and a stunning dome that continues to capture the attention of travellers today.
Another impressive gate in the bazaar is Bab Zuweila, which was built in the 11th century and served as a commercial entrance to the city. As you marvel at this ancient yet impressive structure, take a step back in time.
A prominent building worth exploring is the Al-Hussein Mosque, located in Hussein Square. Dating back to the 12th century, this mosque is renowned for its beautiful architecture and intricate geometric patterns. A visit to the mosque will not only provide an opportunity for prayer but also a chance to appreciate the artistic beauty of the structure.
If you look up while wandering around the bazaar, you'll spot the upper floors of the Khan el-Khalili Gate. Built-in the 14th century, this gate remains a significant part of the market's history.
Khan el-Khalili Bazaar is filled with important landmarks that blend to create an unforgettable experience for all who visit. Embark on a journey through time as you explore these timeless architectural wonders, and immerse yourself in the rich cultural heritage of this fascinating market. [9][10]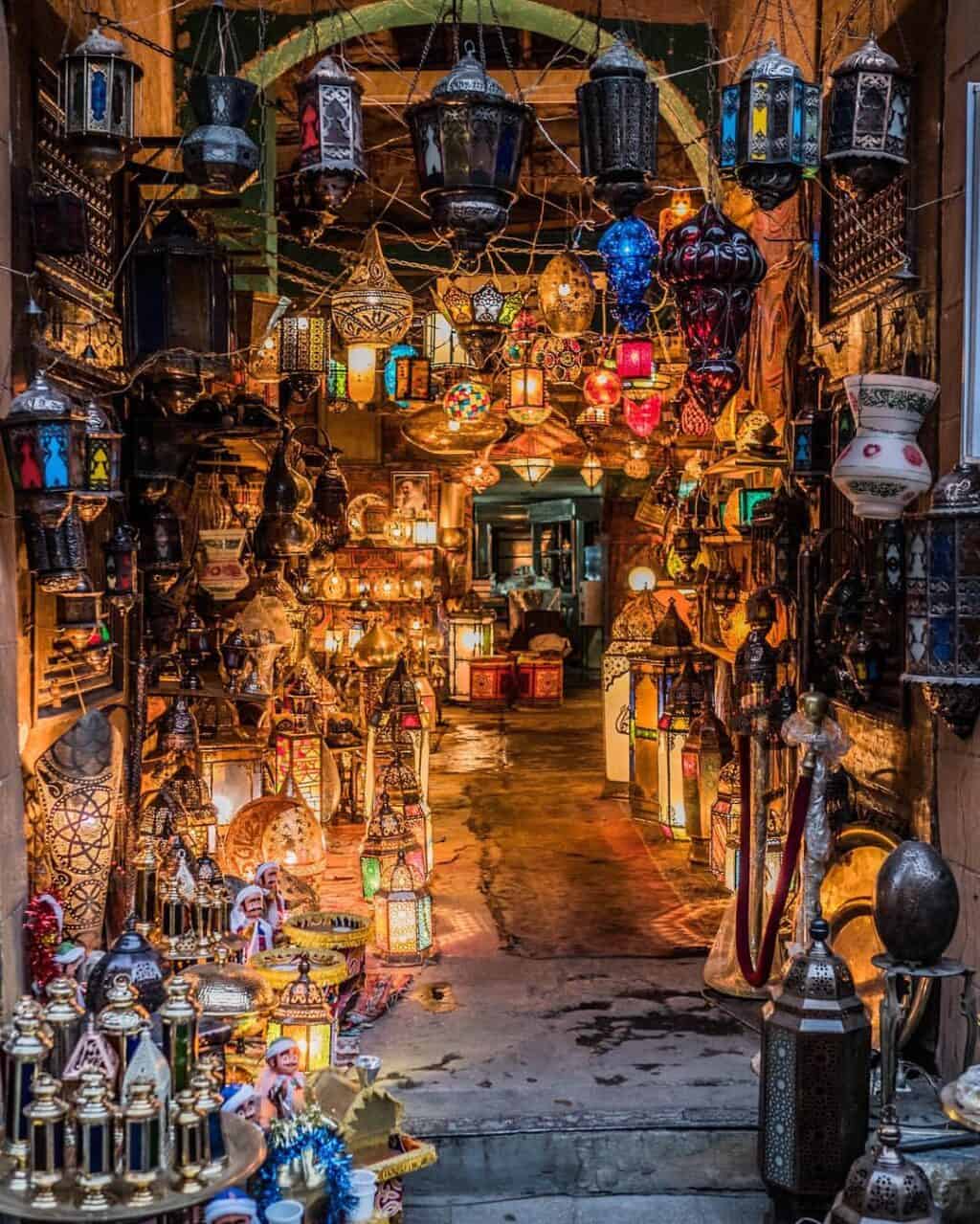 Types of Shops in the Bazaar
When you visit Khan el-Khalili Bazaar, you will be amazed by the variety of shops available. The bazaar has been around for centuries, and the types of shops have evolved. Today, visitors can find shops selling handicrafts, spices, perfumes, jewellery, carpets, fabrics, and more.
If you're a fan of lantern lamps, Khan el-Khalili Bazaar is the best place to buy them. You will find millions of them in different varieties and at the best prices. The lantern lamp shops are just one of the many exciting shops you can explore in the bazaar.
Spice shops are also a big part of the bazaar experience. The aroma of spices fills the air, and the variety of spices available is impressive. You can find spices unique to Egypt or even buy a little of everything to take home.
Jewellery shops in the bazaar have a wide selection of handmade jewellery unique to Egypt. You can also find carpets made by local artists, and each one is a masterpiece in its own right. 
Finally, the fabric shops in the bazaar have an incredible assortment of fabrics that are perfect for creating your unique clothing or home decor. The types of shops available are just one of the many reasons you must visit Khan el-Khalili Bazaar. [11][12]
What to wear when visiting the bazaar
When visiting a vibrant and crowded bazaar like Khan el-Khalili, dressing comfortably and practically is essential. Although there is no mandatory dress code, it's wise to avoid revealing clothing such as short skirts, shorts, tank tops, or crop tops, as this may attract unwanted attention. Instead, wear loose-fitting jeans, long-sleeved tops or blouses, maxi dresses, and long skirts. 
Comfortable footwear is crucial, as you'll likely be walking a lot—sneakers or sandals with supportive soles are ideal. Since pickpocketing is common in areas with large crowds like bazaars, consider wearing a lightweight, anti-theft sling bag that rests securely across your chest. Doing so allows easy access and ensures your valuables, such as money, passport, and phone, remain protected. 
Lastly, it's a good idea to bring a hat or lightweight scarf to protect yourself from the hot Egyptian sun. Overall, prioritize practicality and comfort while still maintaining modesty to respect the local culture. [13][14]
What to pack for the trip
When planning your trip to Khan el-Khalili Bazaar in Egypt, knowing what to pack is important. First of all, dress comfortably for the warm weather, but also respect the local culture and dress modestly. 
Consider wearing breathable fabrics and closed-toe shoes for walking around the crowded streets. Additionally, don't forget to pack sunscreen, a hat, and sunglasses to protect yourself from the strong sun. 
As Khan el-Khalili is a popular spot for shopping, it may be helpful to pack an extra bag for any souvenirs or purchases you make. Wearing an anti-theft chest sling bag is also recommended to keep your valuables safe in the crowded bazaar. 
Lastly, if you plan on visiting other attractions in Cairo, such as the nearby Hussein Square or the pyramids, bring comfortable shoes and appropriate attire for those activities. 
With these items packed and ready, you're all set for an enjoyable and safe shopping experience at Khan el-Khalili Bazaar. [15][16]
Tips for safe and comfortable shopping
Visiting Khan el-Khalili Bazaar is an exciting experience, but it's important to consider certain tips for a safe and comfortable shopping experience. First and foremost, it's always a good idea to keep your personal belongings close to you and avoid carrying large amounts of cash. You can also wear an anti-theft chest sling bag for comfort and security.

Another key tip is to dress appropriately for the weather and cultural norms. Lightweight, breathable clothing is ideal for the hot Egyptian climate while covering your shoulders and knees is a sign of respect to the local culture. It's also essential to wear comfortable shoes as you'll be walking through the narrow alleys and streets of the bazaar.
Furthermore, don't be afraid to haggle for the best prices, as bargaining is common in the bazaar. However, it's important to remain respectful and courteous while doing so.
Finally, take frequent breaks to rest and enjoy the local cafés and restaurants in the nearby Hussein Square. These spots offer a chance to relax, recharge, and immerse yourself in the vibrant energy of Khan el-Khalili Bazaar. By following these tips, you can ensure a safe and pleasant shopping adventure in this beautiful Egyptian landmark. [17][18]
Hussein Square
Hussein Square is a popular destination for visitors to Khan el-Khalili Bazaar, and a good reason. It's a beautiful garden arena surrounded by many restaurants and cafes, making it the perfect place to take a break from shopping and relax. 
One of the most notable cafes in the area is Al Fishawy, the oldest cafe in the bazaar and has been a popular meeting spot for locals and tourists for decades. The famous Egyptian writer Naguib Mahfouz was a frequent visitor to this cafe, and there's even another cafe named after him in Hussein Square. Both cafes are affordable and offer great service. 
There are also many other cafes and restaurants in the area, so you'll surely find something that suits your taste. Additionally, Hussein Square is a great place to people-watch and soak up the atmosphere of Khan el-Khalili. 
Whether you're here to shop or just want to relax in a beautiful outdoor space, Hussein Square is worth a visit. [19][20]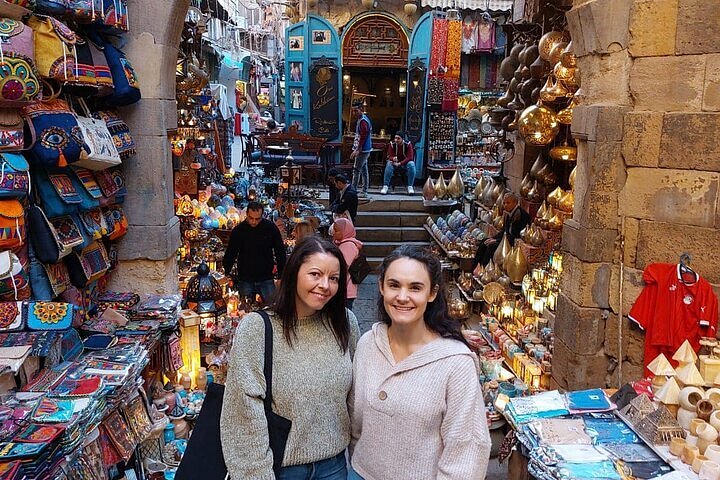 Final thoughts and recommendations for visitors.
A visit to Khan el-Khalili Bazaar is an absolute must-do when in Egypt. This bustling hub of culture and history offers millions of handcrafted items and souvenirs for visitors to purchase. 
When planning your trip, remember to dress comfortably and consider carrying an anti-theft chest sling bag for added safety. Be sure to explore Hussein Square, a historical hotspot surrounded by numerous restaurants and cafes. Al Fishawy, the oldest cafe in the bazaar, is located here and well worth visiting. Its neighbour, Naguib Mahfouz Cafe, is named after a renowned writer who frequented the establishment, making it another must-visit spot for tourists. 
Moreover, wandering the bazaar's narrow alleyways after dark can create unforgettable memories. The bazaar is a symbol of the city's history, heritage, and culture, offering a unique shopping experience. 
Overall, a trip to Khan el-Khalili Bazaar is an unforgettable adventure that every visitor to Egypt should have on their bucket list. [21][22]