Source: www.alternativeegypt.com


Introduction to Naama Bay
If you're looking for a destination that offers breathtaking beaches, lively nightlife, and a wide range of activities, Naama Bay is the place to be!
Naama Bay: A Brief Overview
Located on the coast of the Red Sea in Egypt, Naama Bay is a popular tourist destination known for its stunning natural beauty and vibrant atmosphere. With its golden sandy beaches and crystal-clear waters, it's no wonder why Naama Bay is often referred to as a paradise for beach lovers.
What sets Naama Bay apart from other destinations is its bustling nightlife. The area is packed with bars, clubs, and restaurants that come alive after sunset, offering many entertainment options for visitors of all ages. Whether you're in the mood for a relaxing evening by the beach or a night of dancing and fun, Naama Bay has got you covered.
Why Visit Naama Bay for Your Vacation?
Unforgettable Beach Experience: The beaches in Naama Bay are simply stunning, with soft sand and crystal-clear turquoise waters. Whether you prefer sunbathing, snorkelling, or water sports, there's something for everyone to enjoy.

Shop 'til You Drop: Naama Bay is home to various shops and boutiques where you can indulge in retail therapy. You'll find everything you need, from local crafts and souvenirs to international brands to satisfy your shopping desires.

Mouthwatering Cuisine: Naama Bay is a food lover's paradise. The area has restaurants and cafes serving local and international cuisine, offering a delightful culinary experience. Don't miss the opportunity to try authentic Egyptian dishes during your visit.

Exciting Activities and Attractions: From diving and snorkelling in the vibrant coral reefs to quad biking in the desert, Naama Bay offers many activities and attractions to keep you entertained throughout your vacation.
So, Naama Bay has it all, whether you're seeking relaxation, adventure, or vibrant nightlife. Pack your bags and prepare for an unforgettable vacation in this tropical haven.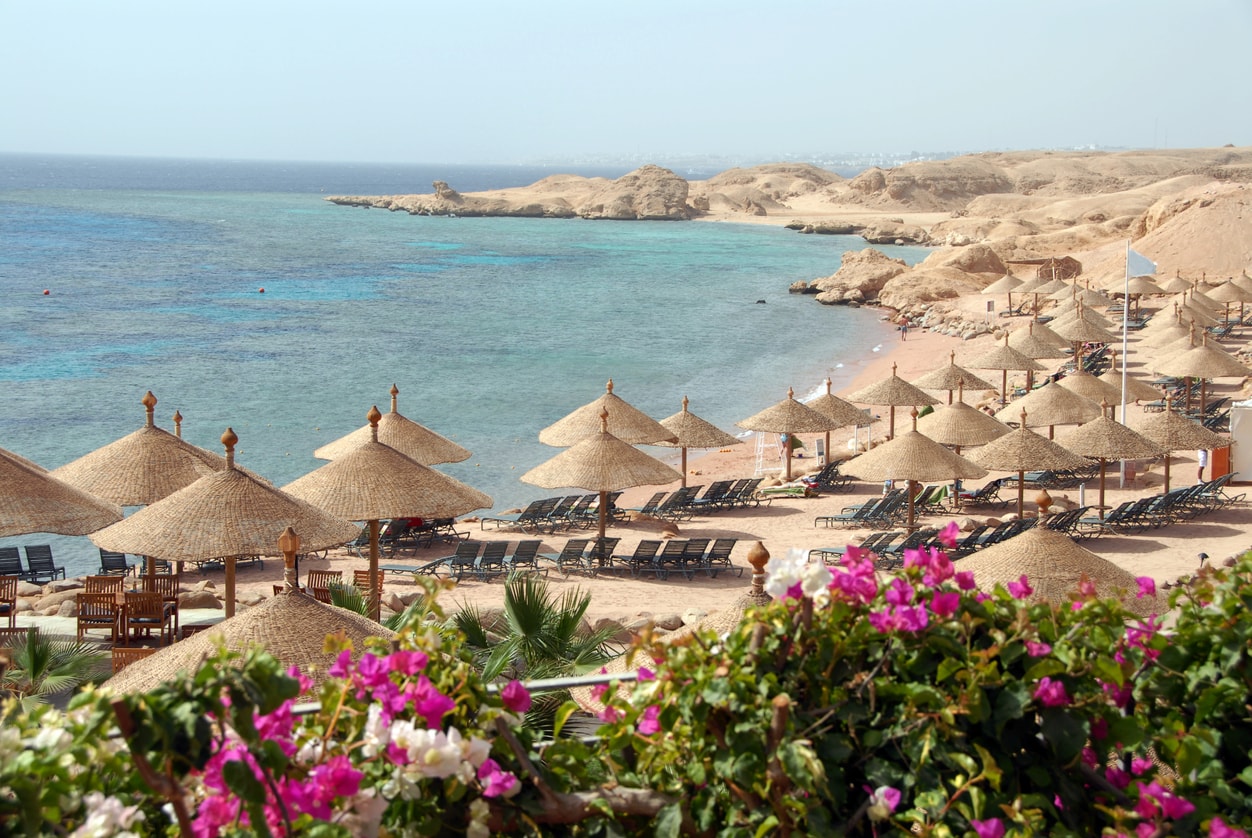 Getting to Naama Bay
Arriving at Sharm El Sheikh
Planning a trip to Naama Bay is an excellent choice for any traveller seeking a beautiful and exotic destination. If you're wondering how to get to Naama Bay, your journey begins by arriving at Sharm El Sheikh, the nearest airport. Sharm El Sheikh International Airport is well-connected and serves numerous international and domestic flights. Once you land at the airport, you can easily find taxis, private airport transfers, or even arrange transportation with your hotel to get to Naama Bay.
Transportation and Getting Around Naama Bay
Getting around Naama Bay is a breeze, with various transportation options available. Most hotels in Naama Bay offer shuttle services to nearby attractions and popular areas, providing convenience for travellers. Taxis are also a common mode of transportation and can be easily hailed on the streets or arranged through your hotel. Additionally, renting a car is an excellent option if you prefer more flexibility and want to explore at your own pace. Car rental services can be found at the airport and throughout Naama Bay.
Once you've arrived in Naama Bay, there are several ways to navigate the area. Walking is a popular choice, as many of the main attractions and amenities are within a comfortable walking distance. Naama Bay also offers a small train service within the area, providing an enjoyable and convenient way to explore. For longer distances or if you wish to visit other areas, taxis and car rentals are readily available.
Whether you walk, take a train, or utilize other transportation options, exploring Naama Bay and discovering its beauty and charm is sure to be an unforgettable experience. So pack your bags, book your tickets, and get ready to embark on an incredible journey to Naama Bay!
Exploring Naama Bay
If you're looking for the perfect destination that combines relaxation and excitement, look no further than Naama Bay. This vibrant coastal town on the Sinai Peninsula in Egypt is a paradise for beach lovers and thrill-seekers alike. Here's your ultimate travel guide to discovering Naama Bay.
Naama Bay's Beaches and Water Activities
Naama Bay is a true haven for beach enthusiasts with its crystal-clear turquoise waters and pristine sandy beaches. You'll find it all here whether you're looking to soak up the sun, take a leisurely swim, or try out some exciting water sports. From snorkelling and scuba diving to jet skiing and parasailing, an adventure awaits everyone.
One of the most popular attractions in Naama Bay is the Naama Bay Coral Reef, a beautiful underwater world brimming with colourful marine life. Don't forget to pack your snorkelling gear or take a dive to explore this breathtaking natural wonder.
Nightlife and Entertainment in Naama Bay
When the sun sets in Naama Bay, the town comes alive with vibrant nightlife and entertainment options. From trendy bars and beach clubs to lively nightclubs and casinos, there's something for everyone to enjoy. Dance the night away to international DJs, catch live music performances, or relax with a drink overlooking the stunning views of the Red Sea.
If you're in the mood for some retail therapy, Naama Bay is also home to various shops and boutiques selling everything from local handicrafts to international brands. Take a stroll along the vibrant promenade and browse through the diverse selection of products on offer.
No matter your travel preferences, Naama Bay has something to offer you. With its stunning beaches, thrilling water activities, exciting nightlife, and excellent shopping options, it's truly a destination that has it all. So pack your bags and get ready to experience the enchanting charm of Naama Bay.
Accommodation Options in Naama Bay
Luxury Resorts in Naama Bay
You're in luck if you're looking for a luxurious and indulgent stay in Naama Bay. The area is home to several world-class resorts that offer top-notch amenities and services. These resorts are known for their spacious rooms, stunning views, and various leisure activities. Whether you prefer lounging by the pool or indulging in spa treatments, these luxury resorts have covered you. Some of Naama Bay's most popular luxury resorts include XYZ Resort, ABC Hotel, and PQR Beach Resort.
Budget-Friendly Hotels and Guesthouses
Naama Bay offers numerous budget-friendly accommodation options for travellers on a tighter budget. These hotels and guesthouses provide comfortable rooms and basic amenities at affordable prices. Despite being more affordable, they still ensure a pleasant stay and convenient access to everything Naama Bay offers. Some budget-friendly options include the DEF Hotel, GHI Guesthouse, and JKL Inn. These establishments provide good value for money without compromising on comfort.
Whether you choose a luxury resort or a budget-friendly hotel, Naama Bay offers stunning views, beautiful beaches, and a vibrant atmosphere that will make your stay memorable. The area is known for its lively nightlife, delicious food, and water activities like snorkelling and diving. Naama Bay is conveniently located near popular attractions such as Ras Mohammed National Park and Old Sharm Market, ensuring you have plenty to explore during your visit.
So, whether you're seeking a luxurious escape or a budget-friendly getaway, Naama Bay has accommodation options to suit every traveller's needs. Pack your bags and get ready to explore this beautiful destination.
Dining and Cuisine in Naama Bay
Naama Bay, located on the stunning shores of the Red Sea in Egypt, is not only famous for its turquoise waters and beautiful beaches but also for its incredible dining scene. Naama Bay has something for everyone, whether you're a food enthusiast or simply looking to satisfy your taste buds.
Local Egyptian Delicacies and Cuisine
When in Naama Bay, don't miss the opportunity to try the local Egyptian delicacies and traditional cuisine. Embark on a gastronomic adventure and indulge in koshari, a hearty combination of lentils, rice, pasta, and spicy tomato sauce topped with crispy onions. Another must-try is the succulent grilled meats, such as kebabs and shawarma, served with aromatic rice and freshly made pita bread. Seafood lovers will delight in the day's fresh catch, prepared with traditional Egyptian flavours and spices.
International Cuisine Options in Naama Bay
Naama Bay offers a diverse range of international cuisine options if you're craving something different. Explore the streets and discover Italian trattorias serving authentic pasta dishes, savour the flavours of Thailand at a vibrant Thai restaurant, or enjoy a fine dining experience at one of the many international fusion restaurants.
For those yearning for a taste of home, Naama Bay also boasts international fast-food chains serving burgers, pizzas, and more. Whether you're in the mood for Chinese, Mexican, Indian, or Japanese cuisine, you can find it all in Naama Bay.
No matter your culinary preferences, Naama Bay is sure to impress with its wide selection of dining options. From traditional Egyptian dishes to international flavours, the food scene in Naama Bay promises to leave you satisfied and craving more.
So, when you visit Naama Bay, be prepared to embark on a culinary journey. Take the time to explore the local delicacies and immerse yourself in the diverse range of international cuisine options available. You'll leave with unforgettable dining experiences and a satisfied appetite.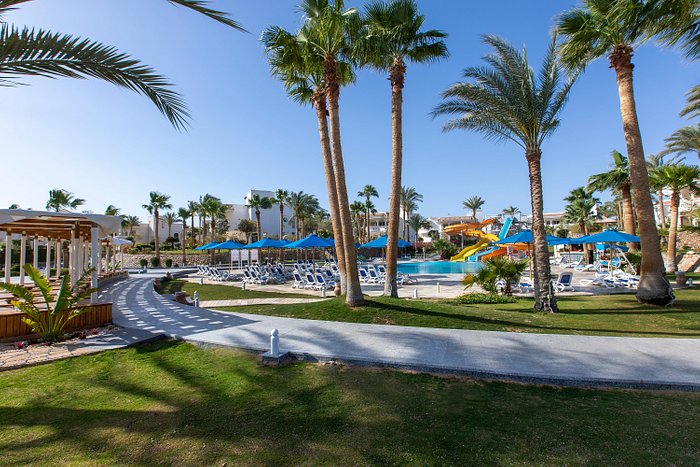 Attractions and Sightseeing in Naama Bay
If you're looking for a stunning travel destination that offers relaxation and excitement, look no further than Naama Bay! Located in the beautiful city of Sharm El Sheikh, Egypt, Naama Bay is a paradise for travellers seeking luxury and adventure.
Naama Bay's Shopping Scene
Shopaholics rejoice! Naama Bay is known for its vibrant shopping scene, offering many local and international brands. The main attraction is the Naama Bay Promenade, a bustling street with shops, boutiques, and restaurants. You can find everything from traditional Egyptian crafts to exquisite jewellery and fashionable clothing here. Don't forget to haggle for the best price!
Outdoor Adventures and Excursions in Naama Bay
Naama Bay is not just about shopping and indulgence; it also boasts a variety of exciting outdoor activities. If you're a water sports enthusiast, you can explore the vibrant coral reefs with a snorkelling or diving adventure. The crystal clear waters of the Red Sea are a haven for marine life, offering unforgettable underwater experiences.
For the adrenaline junkies, Naama Bay offers thrilling desert excursions. Jump on a quad bike or a camel to explore the magical desert landscape. You can also enjoy a breathtaking view of the bay by taking a cable car ride up to Mount Sinai, where Moses is believed to have received the Ten Commandments.
Whether you're looking to relax on pristine beaches, indulge in retail therapy, or embark on thrilling outdoor adventures, Naama Bay has something for everyone. So pack your bags, book your trip, and prepare for an unforgettable experience in this tropical paradise.
Safety and Travel Tips for Naama Bay
Health and Safety Information for Visitors
Planning a trip to Naama Bay? Exciting! Before you hit the beach and dive into the crystal-clear waters, it's important to know a few health and safety tips to ensure a smooth and enjoyable vacation.
Stay Hydrated: The desert climate of Naama Bay can be quite hot and dry, so remember to drink plenty of water to stay hydrated throughout the day. Dehydration can lead to fatigue and dizziness, so keep a bottle handy and drink regularly.

Protect Yourself from the Sun: The sun in Naama Bay can be intense, so apply sunscreen with a high SPF, wear a wide-brimmed hat, and bring sunglasses to protect your eyes from the strong rays. Don't forget to seek shade during the hottest hours of the day.

Stay Informed about Local Safety: Like any travel destination, staying informed about the local safety situation is essential. Check travel advisories, follow any instructions from local authorities, and be aware of your surroundings at all times.
Essential Tips for a Smooth Vacation in Naama Bay
Ready for an unforgettable vacation in Naama Bay? Here are some essential tips to make your trip smooth and hassle-free:
Learn Basic Arabic Phrases: Although English is widely spoken, learning a few basic Arabic phrases can greatly enhance your cultural experience and make locals feel appreciated.

Respect the Local Culture: Egypt has a rich cultural heritage, and it's important to respect local customs and traditions. Dress modestly when visiting religious sites, be mindful of local customs, and always ask for permission before taking photos of people.

Explore Beyond the Beach: While the beaches of Naama Bay are beautiful, don't miss out on exploring the surrounding areas. Take a trip to the mesmerizing Ras Mohammed National Park, snorkelling in the colourful coral reefs, or discover the vibrant markets in nearby Sharm El Sheikh.
Remember, Naama Bay offers a blend of stunning natural beauty, rich history, and warm hospitality. By following these tips, you can have a safe, enjoyable, and memorable vacation in this beautiful destination.
Why Naama Bay Should Be Your Next Destination
Naama Bay should be at the top of your list if you're looking for a vibrant and exciting travel destination. With its beautiful beaches, crystal-clear waters, and a lively nightlife scene, there is something for everyone to enjoy. From relaxing on the beach to exploring the stunning coral reefs, Naama Bay offers various activities and experiences.
One of the main reasons why Naama Bay stands out as a travel destination is its perfect blend of natural beauty and modern amenities. You can spend your days lounging on the white sandy beaches, soaking up the sun, and diving into the turquoise waters to explore the diverse marine life. The bay comes alive in the evening with vibrant bars, restaurants, and clubs offering a lively nightlife experience.
Frequently Asked Questions about Naama Bay Travel
Q: Is Naama Bay suitable for families?
A: Yes, Naama Bay is a family-friendly destination with many resorts offering kid-friendly amenities and activities.
Q: What are some must-visit attractions in Naama Bay?
A: Some popular attractions include the Old Market, Soho Square, Ras Mohammed National Park, and the stunning Blue Hole.
Q: Are there opportunities for water sports in Naama Bay?
A: Absolutely! Naama Bay is known for its fantastic diving and snorkelling opportunities. You can also enjoy parasailing, jet skiing, and banana boat rides.
Naama Bay has something to offer for every traveller. Whether you're seeking relaxation, adventure, or vibrant nightlife, this stunning destination will exceed your expectations. So, pack your bags and prepare for an unforgettable vacation in Naama Bay.